6-Month DTP Course, Details, Fees, Syllabus, Scope, Eligibility and Institute, FAQ
(Last Updated On: April 29, 2023)
6-Month DTP Course, Details, Fees, Syllabus, Scope, Eligibility and Institute, FAQ
To use the mid-year excursion occasions then this is the best opportunity to learn something thing new or something specialized. Presently we will make sense of DTP Computer Courses for Summer Get-away.
This is the best extra energy anyway it's excessively hot. It is essential for everybody to keep information about DTP Computer Course since it has become trendy and everybody wishes to convey the design of anything. This is the best design as it will make your future brilliant.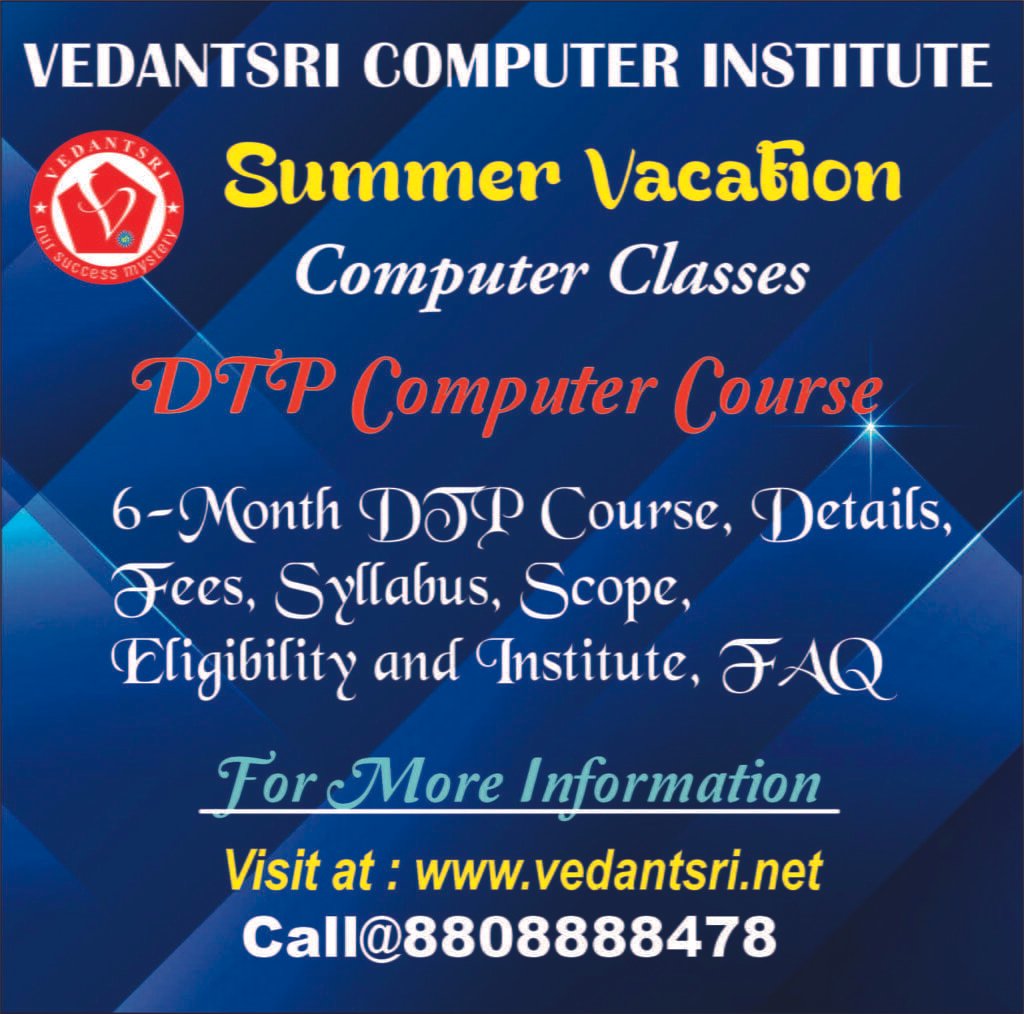 Detail Information About DTP Course
Insights of the DTP Course
DTP, which stands for Desktop Publishing, is a course that focuses on the creation and design of various types of printed materials using computer software. DTP combines elements of graphic design, typography, and page layout to produce visually appealing documents, such as brochures, newsletters, magazines, books, posters, and more.
Introduction to Desktop Publishing: Overview of DTP and its applications, understanding the role of DTP in print media.
Graphic Design Fundamentals: Principles of design, color theory, typography, and image editing techniques.
Page Layout and Composition: Understanding the layout grid, working with margins, columns, and guides, and creating balanced and visually appealing compositions.
DTP Software: In-depth training on popular DTP software such as Adobe InDesign, QuarkXPress, CorelDRAW, or Scribus.
Working with Text: Formatting text, using styles and paragraph formatting, working with typefaces and fonts.
Working with Images: Importing and manipulating images, understanding image file formats, image editing, and retouching techniques.
Creating Print Materials: Designing brochures, flyers, newsletters, magazines, posters, and other print materials.
Preparing Files for Print: Understanding color modes, resolution, bleeds, and trim marks, optimizing files for commercial printing.
Print Production and Output: Collaborating with print service providers, understanding different printing techniques, proofing, and quality control.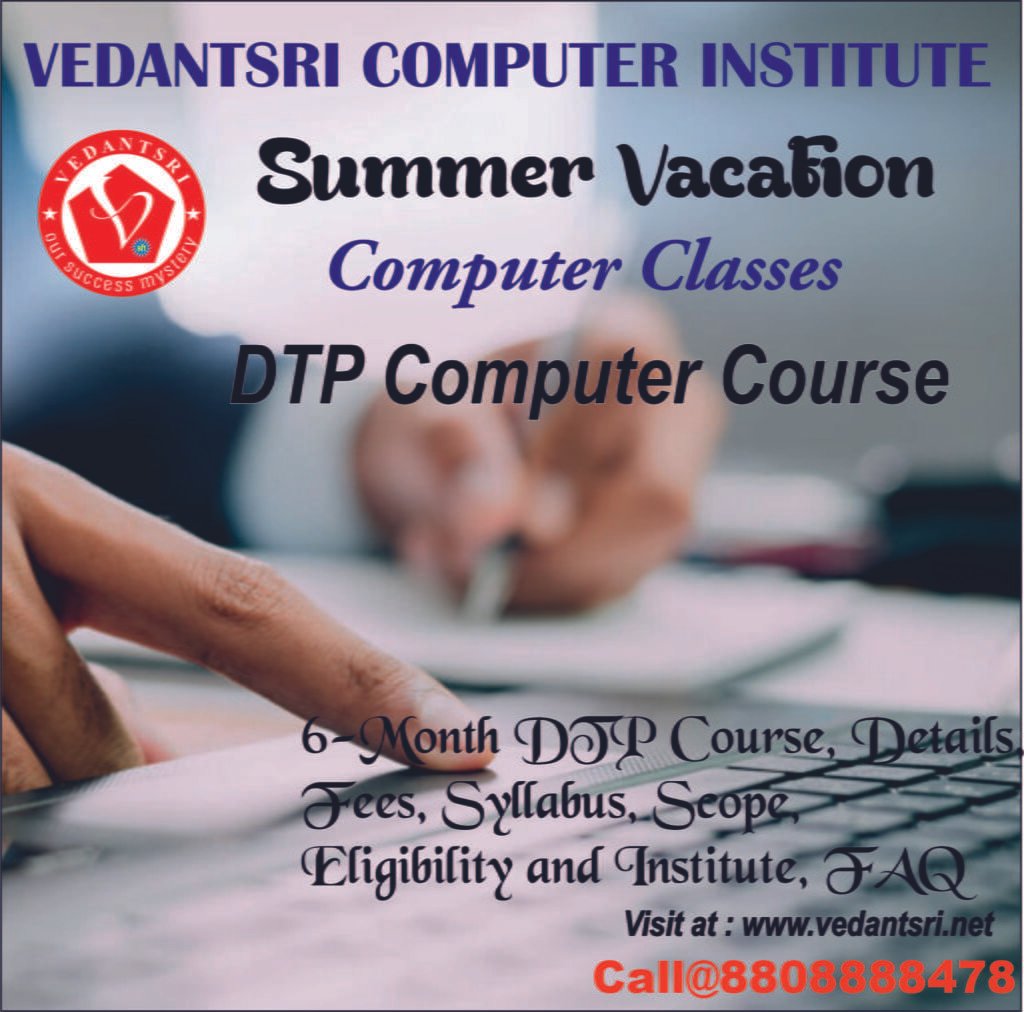 Expenses Of DTP PC Course
Certification Charges for DTP Course
Affirmation Charges for the DTP course are around 8 to 12 thousand. vedantSri gives DTP Course in Varanasi for only 4000/ – Rs.
This is a sweeping course of 1 to 3-day Introduction to DTP (Workspace Circulating) will give you a complete cognizance of the overall huge number of parts of the print dispersing process letting you know the most ideal way to plan and plan each possible sort of print materials including freebies, releases, manuals, books, etc.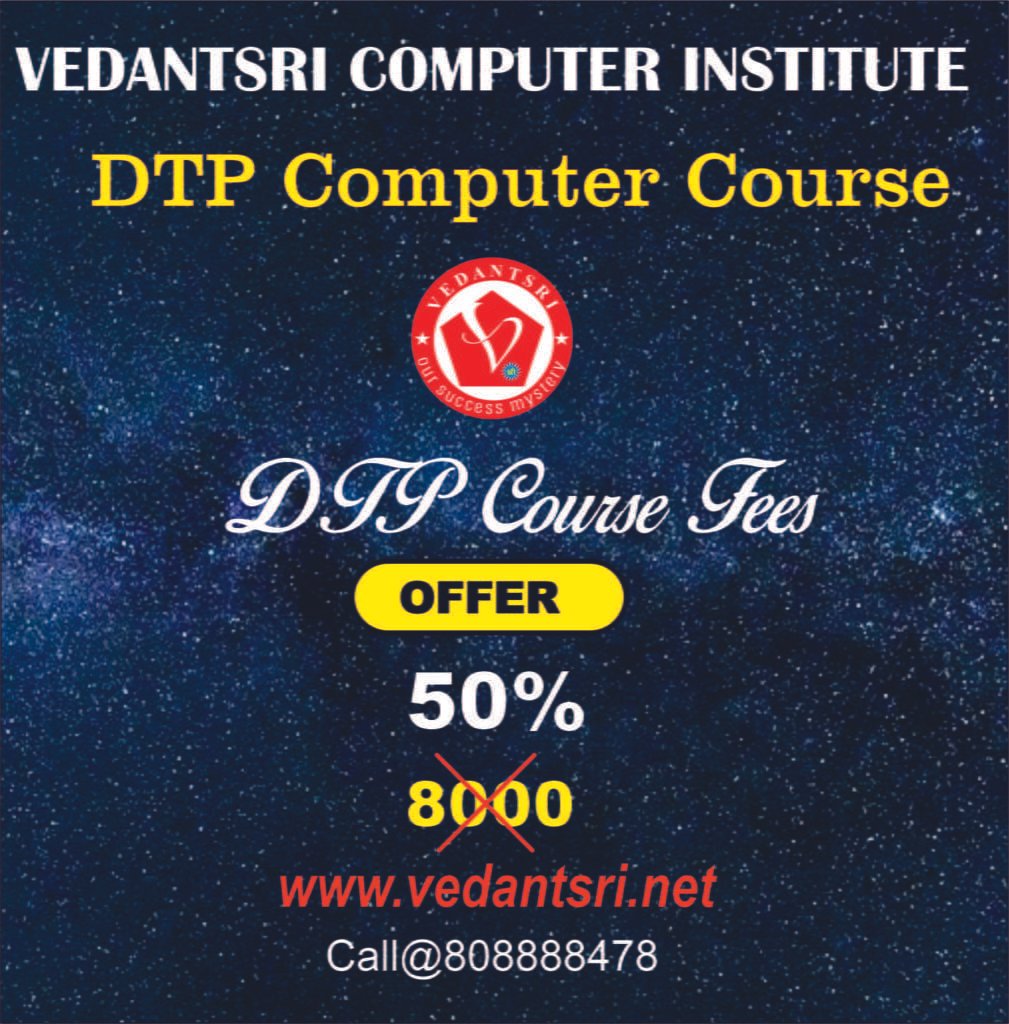 DTP Course Syllabus
DTP Computer Course
A DTP (Desktop Publishing) course typically covers various topics related to designing and creating professional-looking documents for print or digital media. While specific syllabi may vary depending on the institution or course provider, here is a general outline of topics commonly included in a DTP course syllabus:
Introduction to DTP
Typography
Layout and Design Principles
Graphics and Images
DTP Software Tools
Creating and Formatting Documents
Output and Print Preparation
Advanced Topics (optional, depending on course duration and level)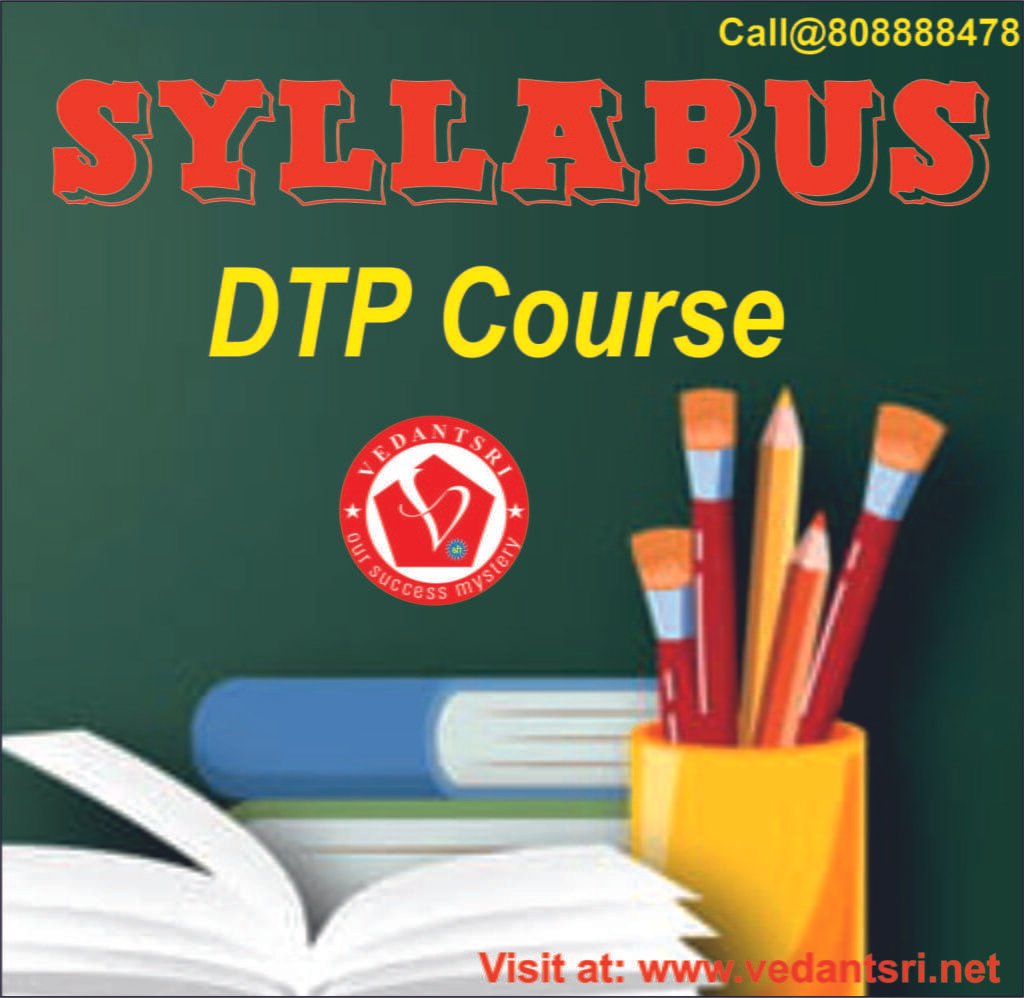 Scope in DTP Course
Open Positions
In the wake of completing the Acknowledgment in Workspace Appropriating (DTP) course, the student will land the position open entryways in the fields of advancing, media, print or visual media associations, and various regions. Here we are giving the 5 situations in the PC which you can join after the Affirmation in Workspace Conveying (DTP) course. Data In regards to DTP Course
PC manager
DTP Manager
Data Area Manager
Office Pioneer
Visual Planner
Front Office Pioneer
Eligibility For DTP Course
Qualification for DTP
To determine eligibility for a specific DTP (Desktop Publishing) course, you would typically need to refer to the requirements set by the institution or organization offering the course. However, I can provide you with general guidelines that are often applicable. Keep in mind that these guidelines may vary depending on the specific course and institution.
Educational Background: Most DTP courses do not have strict educational requirements. They are often open to individuals with a high school diploma or equivalent. Some advanced or specialized DTP courses may require a bachelor's degree or relevant work experience.
Computer Skills: Since DTP involves working with digital tools and software, basic computer literacy is essential. You should be comfortable using computers, navigating operating systems (such as Windows or macOS), and have a basic understanding of file management.
Language Skills: Proficiency in the language(s) in which the course is conducted is important for effective communication and understanding of course materials. Make sure you have the necessary language skills to participate in the course.
Technical Skills: While not always mandatory, having a basic understanding of design principles, typography, and graphic editing software (e.g., Adobe InDesign, Illustrator, Photoshop) can be beneficial for DTP courses. Familiarity with these tools can help you grasp the concepts and techniques more easily.
Prerequisites: Some advanced DTP courses may have prerequisites or recommended prerequisites. For example, a basic graphic design or computer graphics course may be required before enrolling in an advanced DTP program. Check the course description or contact the course provider to determine if any prerequisites apply.
Special Things About Vedantsri Institute
About VedantSri PC Foundation Varanasi
VedantSri centers to finish the prospectus as well as gives additional abilities. Classes measures are very surprising from others as we generally work to the understudies' advantage the PC lab is completely involved by PC frameworks with Web offices. There are offices of a PC framework for every understudy. Hypothesis class is likewise run on a computerized board. The main thing for training is a decent climate. VedantSri gives a climate as well as offers additional consideration and backing.
Frequently Asked Questions:
1. What is the fundamental information on DTP?
Work area distributing (DTP) is the production of reports utilizing page format programming on an individual ("work area") PC. It was first utilized solely for print distributions, yet presently it additionally aids the making of different types of online substance.
2. What is the goal of the DTP course?
The goal of the course is to give the members comprehension of the procedures crucial for constructing their profession in the work area distributing utilizing appropriate equipment and programming apparatuses.
3. What are the 5 purposes of DTP?
Picture result for DTP Course FAQ
Work area distributing programming can be utilized to make the design for many various distributions, for example,
papers and magazines.
pamphlets, banners, flyers, handouts, and indexes.
books and digital books.
PDF.
Site pages.
pennant.
bulletin.
plan of resume
4. What number of steps are there in DTP?
Porozny proceeds to list seven stages in the work area distributing process: Arranging the distribution.
5. For what reason is DTP required?
Frequently contracted as DTP, Work area Distributing is the interaction that guarantees the design and format of your record are perfect. This is especially significant when you've quite recently had your substance interpreted.
Important link
Visit at – https://www.corelclass.com
Read Also it – https://msexcelclass.com/
Also,, Read- Tally Course Fees, Duration, Scope, Syllabus, Admission, Institutes
Also Read – CCC Course Fees, Syllabus, Duration, Scope, Jobs, and Institute
Important Link – DFA Course Fees, Syllabus, Duration, Scope, Jobs, and Institute
Visit – https://mswordclass.com/