Summer Vacation CCC Courses, Detail, Fees, Syllabus, Duration, Scope, and Institute
(Last Updated On: April 29, 2023)
Summer Vacation CCC Courses, Detail, Fees, Syllabus, Duration, Scope, and Institute
If you want to utilize the summer vacation holidays then this is the best time to learn something thing new or something technical. Now we are going to explain CCC Computer Courses for Summer Vacation.
This is the best free time however it's too hot. It is necessary for everyone to keep knowledge about CCC Courses computers because it has become fashionable and everyone wishes to carry the fashion of anything. This is the best fashion as it will make your future bright.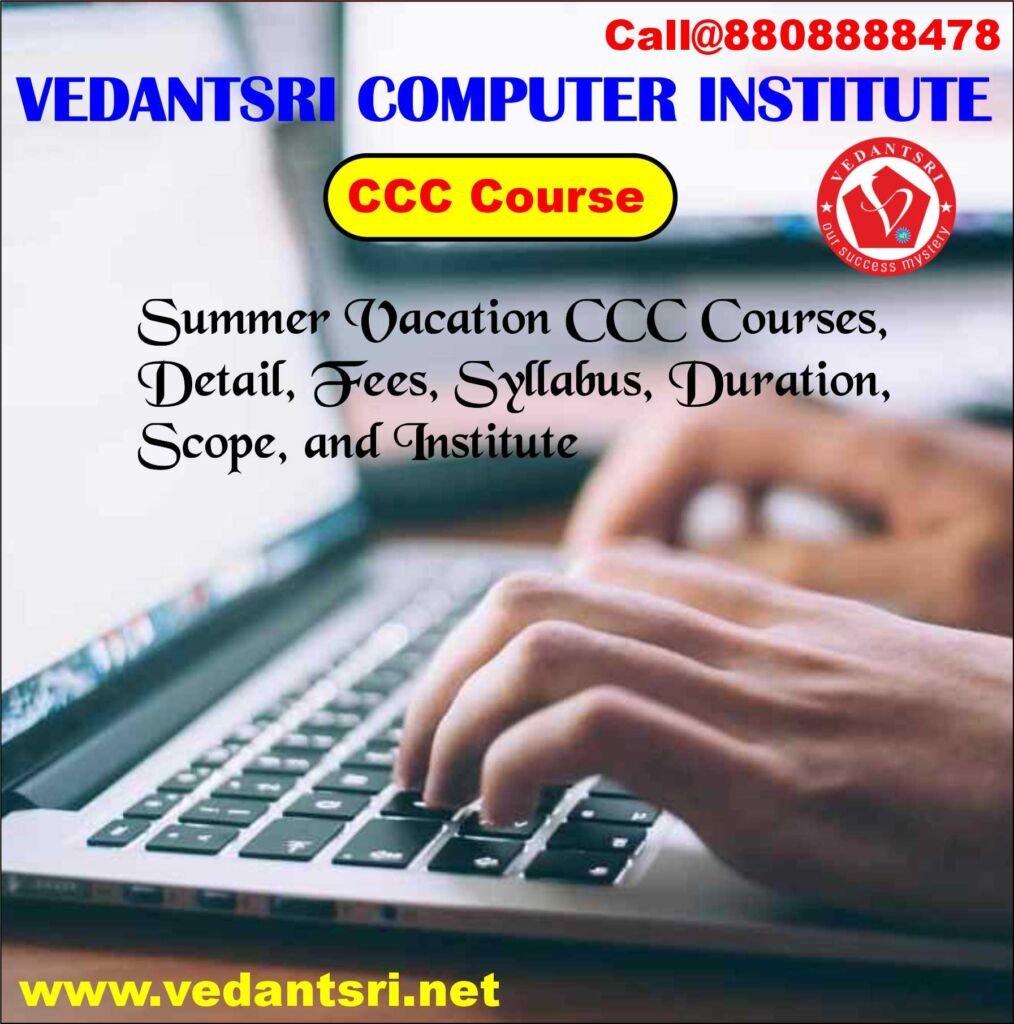 Detail About CCC Courses
Information For CCC Course
CCC (Computer Concepts and C++) courses are designed to provide a solid foundation in computer programming and computer science concepts. These courses typically cover fundamental programming concepts, data structures, algorithms, and object-oriented programming using the C++ programming language. Students enrolled in CCC courses gain valuable skills that can be applied in a wide range of industries and professions, such as software development, game programming, and data analysis.
This course provides a broad overview of the field of computer science, covering topics such as algorithms, data structures, computer organization, and software engineering. Students will learn about the history of computing, basic computer components, and various programming paradigmsC++ Programming Fundamentals: In this course, students will be introduced to the basics of C++ programming.
CCC Computer Courses Fees
CCC Courses Fees
Fees of CCC Course at VedantSri Institute:-
Affirmation Costs for the CCC course are around 6 to 8 thousand. notwithstanding, in Offer, VedantSri gives CCC Course in Varanasi for only 3000.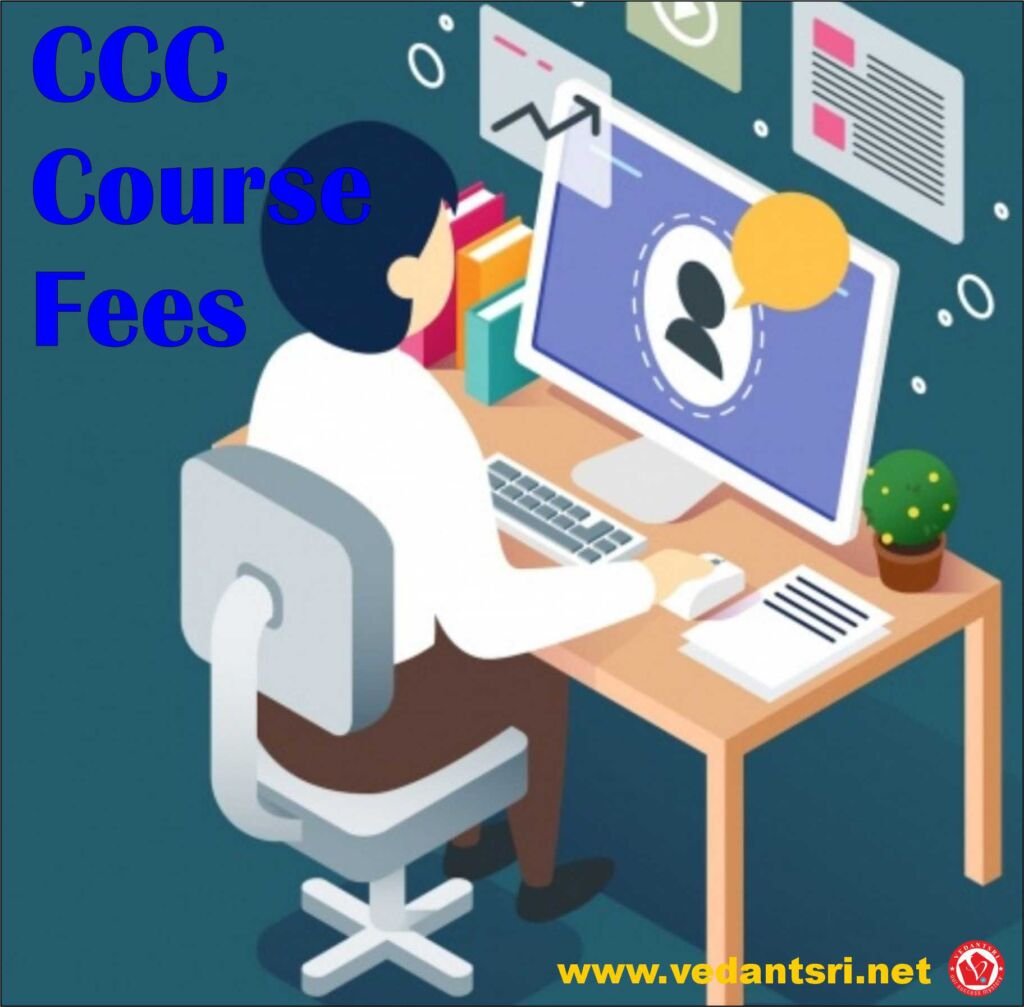 About CCC Courses Syllabus
CCC Computer Course Syllabus
Course on Computer Concepts Computer Course Syllabus:-
Fundamental of Computer
Ms. Word 2019
Ms. Excel 2019
PowerPoint 2019
Advanced Internet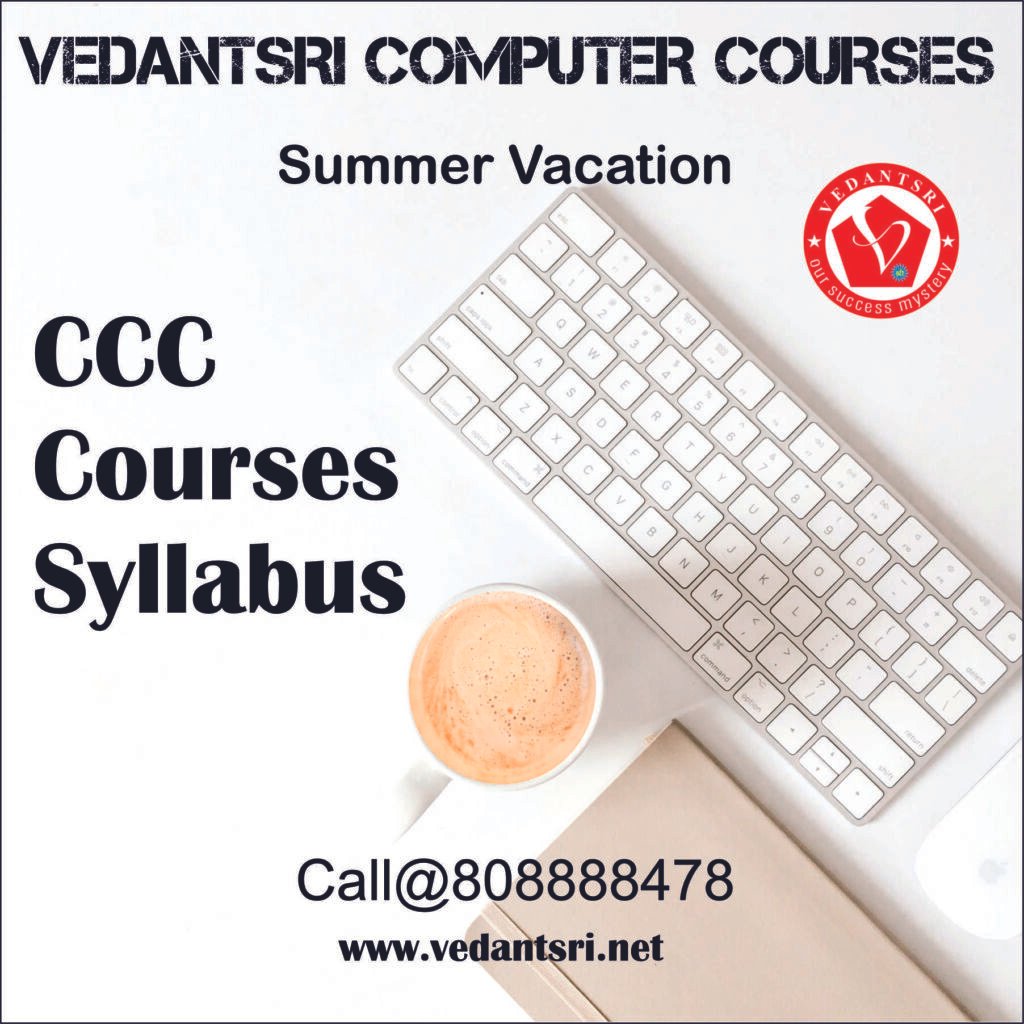 About CCC Courses Duration
Course Duration
The Course in Computer Concepts is a Worthwhile Degree. and its duration is 3 Months. Other institutions may offer shorter or longer CCC courses depending on the level of certification being pursued and the pace of the program. It is important to research different institutions and their programs to find the best fit for your needs and schedule.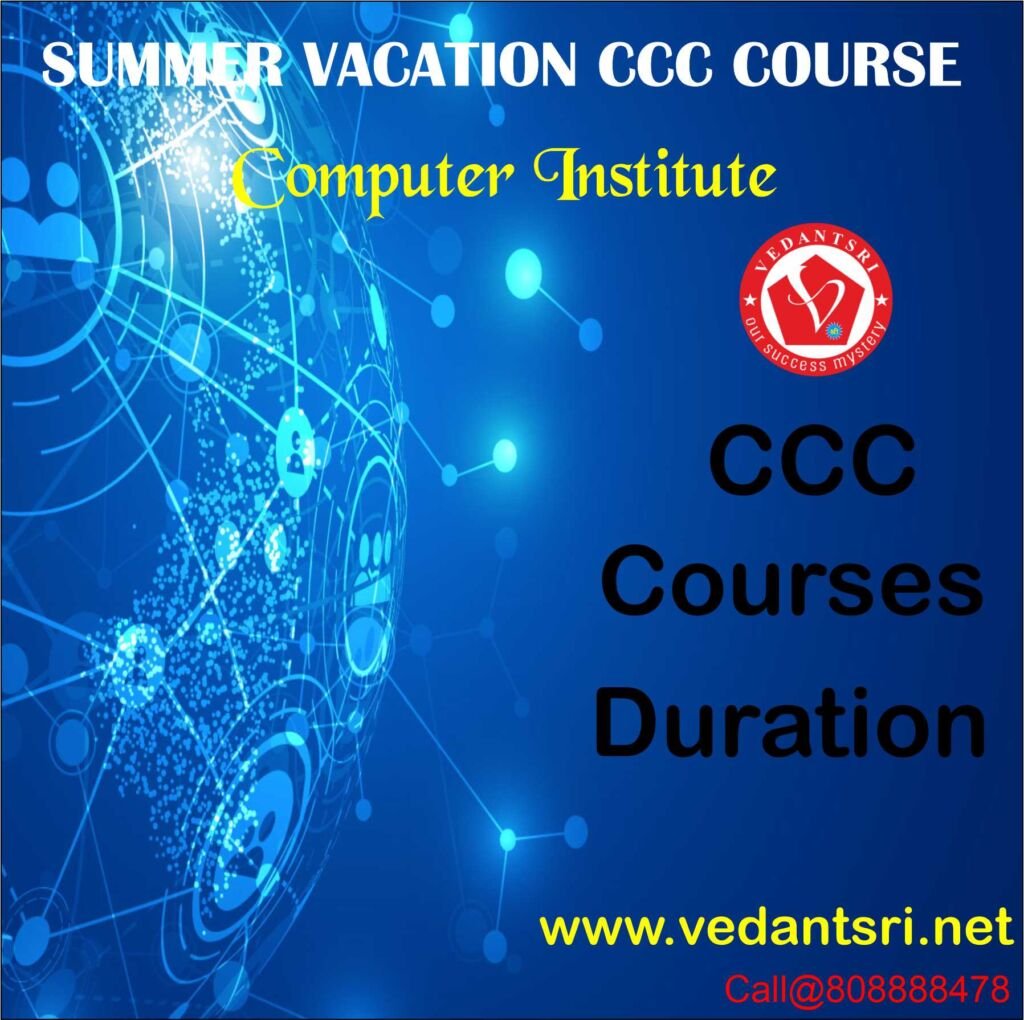 CCC Computer Courses for Scope
CCC Course Scope
The scope of CCC (Course on Computer Concepts) courses generally includes the following topics:
1. Introduction to computers and their applications
2. Basic computer organization and operation
3. Operating systems and their functions
4. Word processing
5. Spreadsheet applications
6. Presentation software
7. Database management systems
8. Internet and its applications
9. Digital financial services
10. Digital security and safety
11. Ethical, legal, and social aspects of computing
The CCC courses aim to provide individuals with the necessary knowledge and skills to effectively use computers and their applications in their personal and professional lives. Firstly, They are designed to be accessible to individuals with little or no prior experience with computers, and they can be helpful for anyone seeking to improve their digital literacy. CCC courses are often offered as part of vocational training programs or as standalone courses at community colleges and other educational institutions.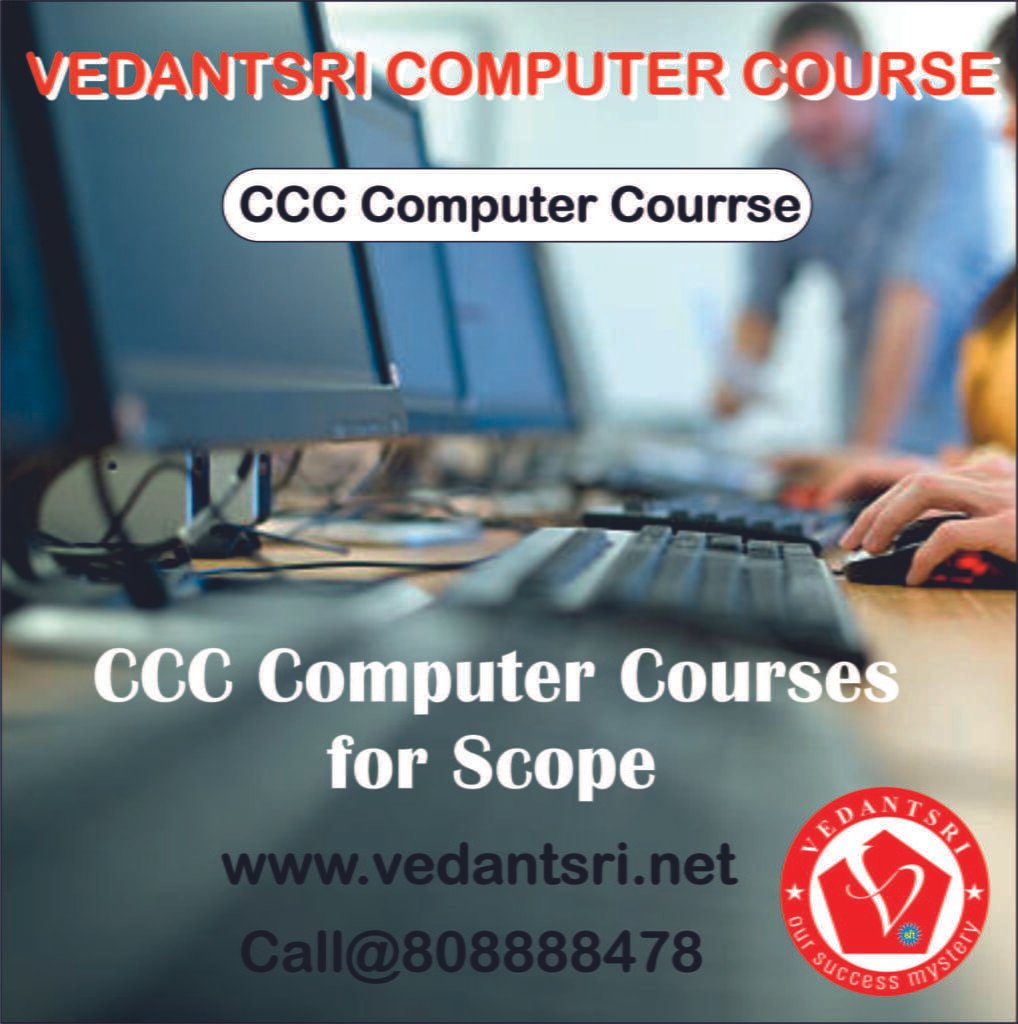 Special Things About Vedantsri Institute
VedantSri not only focuses to complete the syllabus but also provides extra skills. Classes criteria are totally different from others as we always work for the students' benefit the computer lab is fully occupied by computer systems with Internet facilities. There are facilities of a computer system for each student. Basically, Theory class is also run on a digital board. The most important thing for education is a good environment. VedantSri not only provides an environment but also gives extra attention and support.
FAQ:-
1. What sort of inquiries are posed in CCC?
The assessment contains Objective Sort questions, which incorporate numerous decision and Valid/Bogus Sort questions. The test will be directed at 100 imprints. An all-out number of 100 inquiries will be posed. There are 02 segments with each part including 50 inquiries of 01 imprint each.
2. How often I can apply for CCC?
21 Could I at any point apply again for another CCC assessment cycle, in the event that I finished the CCC assessment? A21 Indeed, you can apply again in another test cycle
3. What are the advantages of the CCC Course?
Understudies who complete this course will acquire a fundamental comprehension of email, Web looking, and business ideas. This is likewise a fledgling course for individuals who believe should do some high-level software engineering courses.
4. Is CCC a degree or recognition?
The CCC Endorsement is fundamental level PC Testament, CCC Declaration obligatory in pretty much every Govt. Area. The understudy can get an endorsement from the Service of IT, Govt. of India.
Important link
Visit at – https://www.corelclass.com
Read Also it – https://msexcelclass.com/
Also, Read- Tally Course Fees, Duration, Scope, Syllabus, Admission, Institutes
Also Read – CCC Course Fees, Syllabus, Duration, Scope, Jobs, and Institute
Important Link – DFA Course Fees, Syllabus, Duration, Scope, Jobs, and Institute
Visit – https://mswordclass.com/