C++ Course Details, Fees, Duration, Scope, Syllabus, Admission, Institutes & Jobs
(Last Updated On: November 14, 2022)
C++ Course Details, Fees, Duration, Scope, Syllabus, Admission, Institutes & Jobs
About C++
C++ is an article orchestrated programming language that is direct and current and a comprehensively valuable programming language for application improvement. This can be staggering for understudies who wish to enter the Object-Oriented Programming.
Why We Need to Do C++?
The Course is arranged in a way that makes basics and capacities of C++ Language to Students. It gives Programmers a huge level of power over structure resources and memory. This cross-stage language can be used to make huge level applications. Hopefuls who have done this course can have a wide extent of chances open up in various stages.
Admission Fees of C ++ Course?
Affirmation Fees of the C ++ course are around 6 to 8 thousand. in any case, in Offer Varanasi gives C ++ Course in Varanasi just 5000/ – Rs Total and No Extra Admission Charge.
Duration of C ++ Course?
C ++ is a beneficial degree and its duration is 6 months.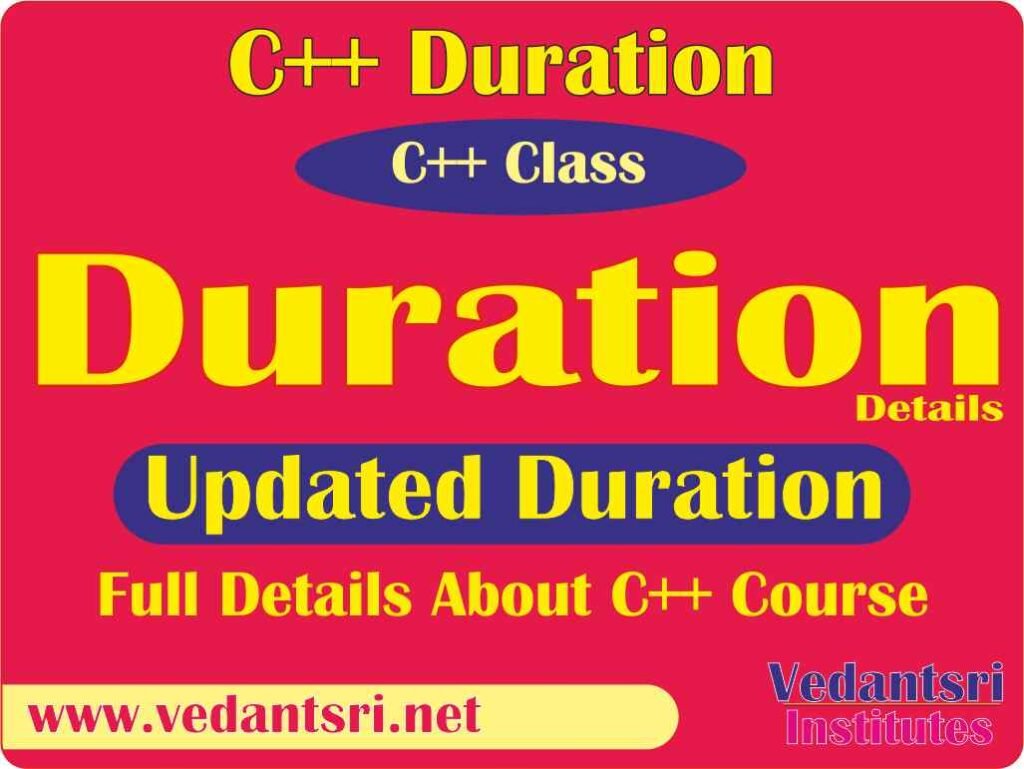 C ++ Computer course Syllabus?
Beginning with C++
Structure of C++ program
C++ data types
Function in C++
Arrays within a class
Arrays of objects
Discount in C ++ Course ?
Time to Time VedantSri Institute gives a Discount on different offers. Additionally, as of now, the VedantSri Discount offer is half OFF on any course Fees and moreover attestation Fee is FREE in this proposition.
Extra Free Courses in C ++ Offer?
There are so many extra free Courses are in C++ Course:-
1. Typing Training
2. English Spoken Class
3. Personality Development
4. CCC Class.
5. CTT Training
Facilities in C ++ Classes?
There are many facilities in the C++:-
1. Projector Screen Classroom
2. 4-ways Technique
3. Project-Based Training
4. Online Test Facilities
5. Online Blog Support
6. Free Courses Training
7. CTT Internship Training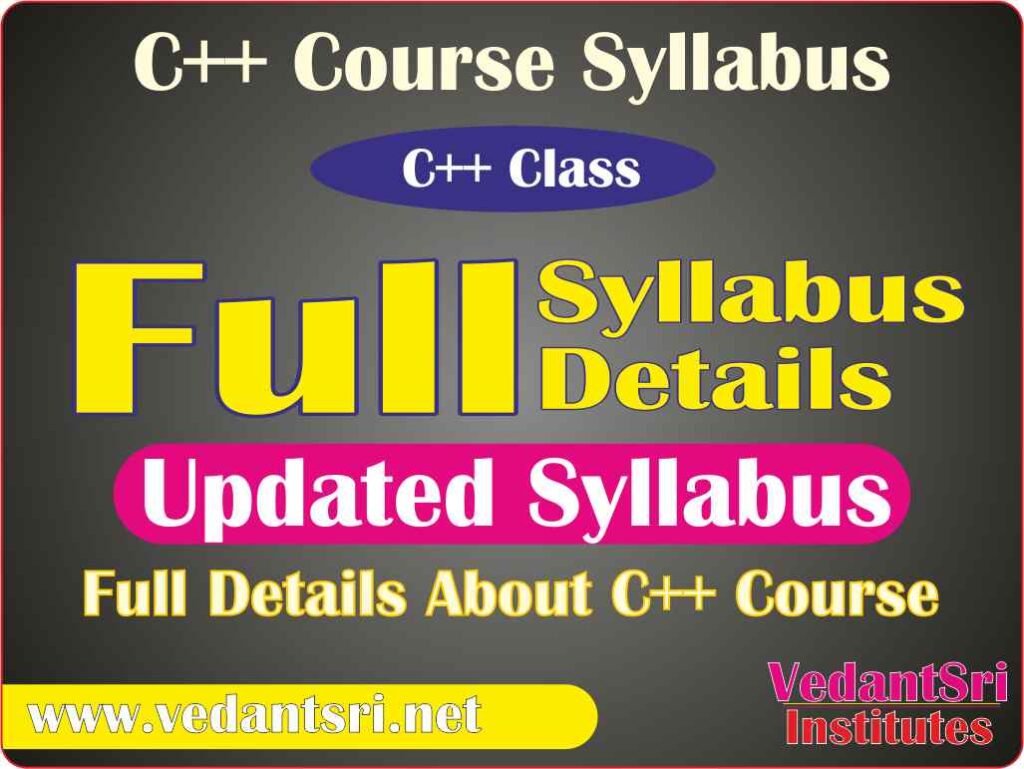 What is the Courses Category of the Course?
Courses Category of C ++ Professional Base.
Job Placement in C ++ Courses?
An immense number of business openings are being presented to the alumni of the private and public areas. A portion of the open positions which an up-and-comer can discover are enrolled beneath:
1 . Editor
2. Programmer
3. Coder
4. Web Desginer
5. App Developer
Way to Teach of C ++ Class?
Way to Teach of C++ Class In VedantSri:-
1. Project-Based
2. Best Knowledgeable Teachers teach a student with a projector.
3. Provided a single system for a single student.
4. Time to Time tests is taken with the related course.
5. live presentation
6. Alternate Days Theory, Projects and Practical Session
7. If students miss there lab or class, related video is available on EasyTarika Android apps.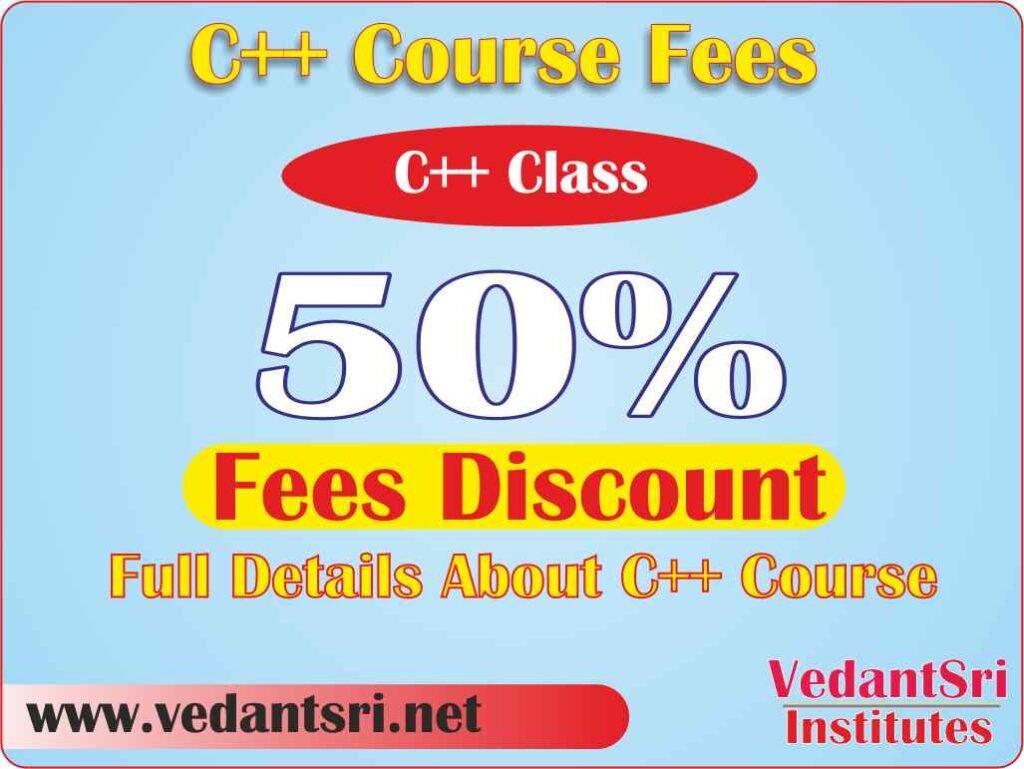 Teaching Language in C ++ Class?
Basically, the language of the computer is English but you can learn it in English and Hindi both.
Does Computer Basic Knowledge Require For C ++ Class?
No, Computer Basic Knowledge Require For C ++ Class. Because basic knowledge is Taught in C ++ Class.
Does eligibility require For Video Editing Course?
Yes, If you have completed 10th then you are eligible for C++.
Important Link
Visit at – https://www.corelclass.com
Also, Read it – CorelDraw Course Fees, Duration, Scope, Syllabus, Admission, Institutes
Read Also – Tally Course Fees, Duration, Scope, Syllabus, Admission, Institutes
Also Read – CCC Course Fees, Syllabus, Duration, Scope, Jobs, and Institute
Important Link – DFA Course Fees, Syllabus, Duration, Scope, Jobs, and Institute
Visit – ADCA Course Fees, Duration, Scope, Syllabus, Admission, Institutes